Missions is for every believer in Christ.   What role do you feel God is calling you to do for His Kingdom?  Would you prayerfully consider coming alongside us in the task of Bible translation?
Follow His call to GO
Wycliffe has numerous open positions that fit a variety of skill areas.  From actual Bible translators skilled in language, to educators, managers, pilots, and software developers, the goal is to see God's Word spread to Bibleless people. Service could be  overseas or stateside.  Could God be calling you to serve Him using your current training?
Follow His call to PRAY
Our enemy does NOT want God's Holy Word to spread through Bible translation.  Some of the weapons he fights with are fear, lies, discouragement, and confusion.  Please partner with us in prayer and take a stand against the enemy.  Join our prayer team and commit to praying regularly! Go to our Wycliffe ministry page and click on PRAY AND STAY CONNECTED.
Follow His call to SEND
Wycliffe missionaries do not receive a guaranteed salary. Instead, we rely on God to provide through the gifts of interested individuals and churches who want to come alongside and support the goal of Bible translation.  We hope that you will prayerfully consider joining us as a regular financial partner.
Online
---
You can use Wycliffe's simple online service to schedule your contributions. The best way t give is via Electronic Funds Transfer which allow Wycliffe to automatically debit your checking account on a regular basis. You can also give via Credit Card with options on how cover the 2.3% transaction fee.
By Mail
---
You can can send a check to:
Wycliffe Bible Translators
PO Box 628200
Orlando, FL 32862-8200
Please Include a separate note saying,
"Preference for the Wycliffe ministry of Chris and Michelle Hubbard, account# 280207."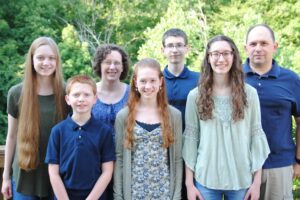 Thank You For Standing With Us
In God's Call to Ministry